BRITAIN CHEVROLET - AUTO PARTS DEPARTMENT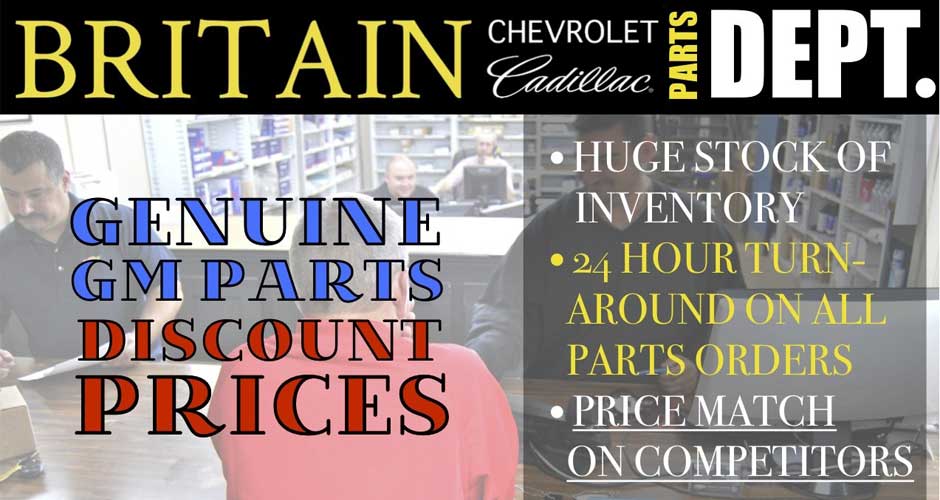 LOOKING FOR TIRES IN GREENVILLE, TX?
We guarantee we'll have the best price in town on the tires you're looking for. If you find a better deal somewhere else, bring us a copy of the ad or quote and we'll match the price! Regardless of where you are, come to Britain Chevrolet in Greenville Texas if you want the best prices on the best tires. We promise you'll get professional care from our Certified Service Technicians and the power of the General Motors Warranty that backs our products. You'll leave Britain Chevrolet with peace of mind knowing you have the right tires installed correctly on your vehicle. Visit us or order online for a best-in-class tires in Greenville.
BRITAIN CHEVROLET PARTS DEPARTMENT
We have the largest inventory of General Motors parts and accessories in Greenville for all makes and models. Our staff is professionally trained to provide the best service and knowledge in the industry. Instead of choosing aftermarket stores, visit Britain Chevrolet or call us at (903)274-4325. Our parts are GM branded and our prices are comparable to aftermarket competitors. We believe your vehicle's health is important, so don't use parts that don't meet the strict GM factory specifications. For authentic Chevy parts and accessories in Greenville, come to Britain Chevrolet.
At the BEST price in town!